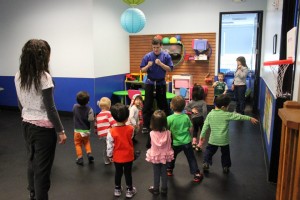 The Doctors Luce Daycare Toddlers and Preschoolers participate in weekly field trips to both Indoor Goals and Oregon Gymnastics Academy included at no additional charge.
**Just started: on-site weekly martial arts lessons for Toddler 1, Transitional and Preschool age students thanks to a partnership with Aim High Martial Arts Academy!
Indoor Goals:
Located right next door offers our students an hour of fun on their large indoor soccer field. Toddlers on one half of the field for free play and preschoolers on the other half learning drills and techniques from one of our Preschool teachers who also has the talent of soccer coaching.
Oregon Gymnastics Academy:
Located across the parking lot from us, OGA offers our day care children one hour of small group practice with their coaching staff. The children learn gymnastic techniques using floor mats, trampolines, bars and beams. The children also enjoy free play fun in the large foam pit.