The Doctors Luce is staffed by husband and wife pediatricians whose desire is to create a low patient volume full service pediatric clinic where medical needs can be fully addressed and time made available to work on the most important part of medicine—prevention.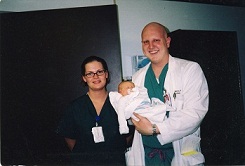 Goals we seek to provide
Access to a comprehensive medical home for children of any background. Clinic hours created with working schedule in mind. Guaranteed access to same day care if you call us before 2pm.
Preventative medicine and time with families are emphasized with 30-40 minute or more full service well checks. Please note that these well child visits are arranged by appointment only.   An appointment can be scheduled by calling or using "Request an Appointment" link.
Intensive health management, those with chronic medical diagnoses are actively managed proactively. When appointments are due, patient's family is contacted and appointment is scheduled.
Flat fee medical care service is also available. Prices are fixed and are posted in every exam room which includes vaccinations, procedures, supplies, and medications administered.
For children, the best part of the practice is the unbelievable playroom, complete with skee ball and basketball among other games.
In the same vein as above, if The Doctors Luce Pediatrics cannot convince patients and their families that vaccinations are the best preventative measure in health care today, such patients will be discharged from the clinic. We simply cannot risk a healthy newborn without immunity being exposed to an unvaccinated child possibly carrying a disease in our clinic. Alternative schedules will be accepted as long as all vaccinations are received by the scheduled timelines recommended by the CDC. An exception to this would be those patients who require catch-up vaccinations. As long as an expeditious regimen to catch-up can be agreed upon between the pediatrician and the family, the pediatrician-patient relationship will continue.